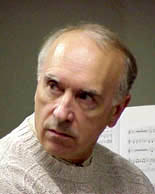 Dr. Rex Cadwallader is a noted jazz pianist, composer, and educator. He received an Emmy Award in 1999 for his original score for "The Connecticut River: A Journey Through Time," a Connecticut Public Television Special, an Emmy Award nomination in 1998 for his score for "Connecticut For All Seasons," another CPTV presentation. He has received composition and performance awards from downbeat magazine, compositional study grants from the National Endowment for the Arts, a research grant from the National Endowment for the Humanities, and has published over sixty compositions for big band, jazz combo and vocal jazz ensemble.
He was recently invited to participate in the prestigious BMI Jazz Composers Workshop in New York, through which one of his latest compositions for big band, "Invocation," was premiered in July of 2001. He has studied jazz composition and arranging with Jim McNeely, Manny Albam, Michael Abene, Claire Fischer, and Ray Wright. His music has been recorded throughout the U.S. and Europe, and his scores for television have been heard nationwide. An album recorded with the National Youth Jazz Orchestra of Great Britain, "Big Band Christmas," received an Album Of The Year award from the British Music Retailers Association in 1992. Dr. Cadwallader's "Connecticut Legends" was premiered by the New Haven Civic Orchestra in May of 2005. His "Symphony - Wind River" was premiered by the the American Chamber Orchestra in June of 2004. A new work, "Concerto for Violoncello and Orchestra" will be premiered in February of 2006 by the Connecticut Valley Chamber Orchestra with 'cellist Rebecca Patterson
Dr. Cadwallader has played with such jazz luminaries as Rufus Reid, Bob Mintzer, Eddie Daniels, Ed Shaunessey, Bill Watrous, Don Menza, Clark Terry, Ali Ryerson, Joe Beck, Giacomo Gates, and many others. Rex appears as performer or composer on over twenty-five albums including his most recent cds,"Quicker Than The Eye," with bassist Mike Asetta and drummer Artie Dixson, "Broadway - West Side Story," with flutist Ali Ryerson, bassist Mike Asetta and drummer Artie Dixson, and "The Art Of Trio," with bassist David Chevan. The cd, "Repartee," also with David Chevan was released in January 2000. His new solo piano cd "Love Song For Nancy" featuring jazz standards will be released this fall on the Stanza USA label, and a cd of original contemporary jazz with drummer Rich MacDonald entitled "The Cadwallader / MacDonald Project - YOUR SMILE" was released in 1998 on Jaybird Records. Two other recordings, "Christmas In The Neighborhood" with bassist Mike Asetta, and "In A Mellow Tone," a tribute to the music of Duke Ellington with bassist David Chevan and drummer Jesse Hameen II, were released in 2002 and 2003 respectively.
His compositions for big band, small jazz ensemble, and vocal jazz ensemble have been recorded worldwide, including recordings by the Tokyo Big Band, the National Youth Jazz Orchestra of Great Britain, the Nebraska Jazz Orchestra, the Austin Big Band, and university and college big bands throughout the United States.
Chair of the Performing Arts Department at Greens Farms Academy in Westport, Connecticut, he has served as Assistant Director of Jazz Studies at the University of Texas in Arlington, Associate Director of Jazz Studies at the University of Northern Colorado, has taught at the Royal Academy of Music in London, England, at Marlborough College in Marlborough England, at Southern Connecticut State University and at the Neighborhood Music School in New Haven, where he continues to teach jazz piano. He received his Doctor of Arts Degree in Composition and Music Theory from the University of Northern Colorado in Greeley, and his Bachelor of Music Education and Master of Music in Composition degrees from the University of Nebraska in Lincoln.
As a jazz educator, Dr. Cadwallader has been a guest artist, clinician, and adjudicator at festivals throughout the United States and England. His performing groups have received many national awards and have appeared at numerous state music association conventions and at the annual convention of the International Association of Jazz Educators. He is also a contributing author of a new book on American popular music entitled, " 'S'Wonderful, 'S'Marvelous - An American Popular Song Reader," soon to be released by Greenwood Press.