The jazz duo of Rex Cadwallader and David Chevan bring their highly successful concert series, "Intimate Jazz - The Art of Trio" to venues throughout New England. The series offers jazz enthusiasts uniquely engaging concert performances with some of the nation's finest jazz performers. In addition to Cadwallader on piano and Chevan on bass, each concert in the series features a special guest artist as the third member of the trio. Guest artists have included Bob Mintzer, tenor sax; Ali Ryerson, flute; Joe Beck, guitar; Jesse Hameen II, drums; Arti Dixson, drums; Jeff Newell, alto sax; Giacomo Gates, vocalist; Warren Chiasson, vibraphone; Tim Moran, alto sax; Jim Fryer, trombone; Terry Clarke, drums; Peter McEacheran, trombone; Stacy Phillips, dobro; Montenia, vocalist, and many others.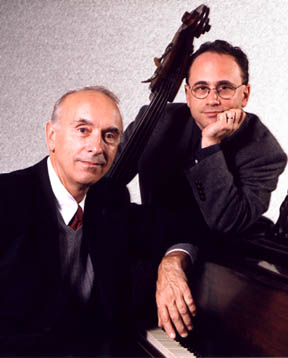 Cadwallader and Chevan have firmly established credentials in both the academic and creative worlds. Both hold doctorates (Cadwallader's in composition from the University of Northern Colorado, and Chevan's in music history from the City University of New York), both have taught at the university level, and both have recorded extensively, though until now separately. Cadwallader is an 1999 Emmy-winning composer and a noted jazz educator and publisher, and Chevan is currently Chairman of the Music Department at Southern Connecticut State University where, in addition to teaching, he leads the Creative Music Orchestra. This wealth of experience enables the duo to be remarkably insightful about the music they perform, and at the same time comfortable and welcoming - they bring warmth and intimacy to both the audience and their art.
.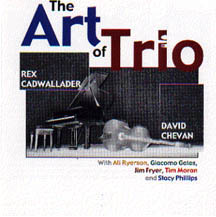 The Art of Trio

- " The Art of the Trio is an imaginative album of straightahead jazz ... a series of really charming tracks, propelled ably by Chevan's punchy bass lines."
George Robinson in Jewish Week
"...an exercise in versatility."
Fran Fried in The New Haven Register
"...a CD that delivers and delivers well! Rex Cadwallader on piano and David Chevan on bass are a duo that is a welcome addition to jazz music everywhere! These guys can soar..."
Lee Prosser in Jazz At A Glance (jazzreviews.com)
"...Cadwallader and Chevan... do the job of providing the structure and framework for the guests to perform effectively."
Michael Gladstone - 52nd Street.com
"Recognized by jazz enthusiasts as one of the nation's top duos..."
International Festival of Arts and Ideas - New Haven
"This is jazz at its finest."
Bill Meddick, Executive Director - Milford Fine Arts Council
CONTACT:
52 Clark Hill Road
Milford Connecticut 06460
(203) 877-3400
.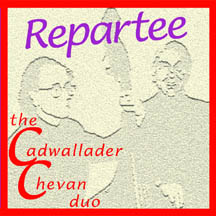 Repartee
"Rex does the theme ("Tenderly") in shorthand: blunt clusters of notes, with a shimmer at the end of each phrase. So tender is his solo, this reminds me of Bill Evans."
John Barrett in JazzUSA.com
"...a very classy album."
Fran Fried in The New Haven Register
...interesting phrasing on "Blue Bossa", some adventurous playing on "Variations on a Theme, By George" and a pleasing version of "I'll Remember April."
Ron Kemm in JazzReview.com
"Cadwallader is in charge at the keyboard, playing with assurance and a light touch; Chevan backs him up, getting a big, round, secure tone on the bull fiddle. Their versions are authoritative, thought-provoking, and good for repeat listenings."
John Herr in Cadence Magazine